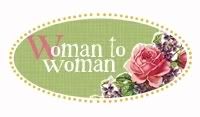 I wasn't going to participate in today's Woman To Woman, because the topic is dealing with grief, and I don't really have any tips for coping. I believe that grief is something that affects all of us differently and that there is no one way to deal with it. Then I realized that I do have something to say, and that is about helping others deal with their grief.
When I was a senior in high school, my cat, Tigger, died. When my seat mate in math class asked why I was sad and I told him, he said, "Don't you have, like, eight other cats?" We had three other cats, but that wasn't the point. Other pets are not a replacement for the one who has died, any more than having other children will make losing a baby to miscarriage less painful. Don't marginalize someone's loss by saying 'it was just a cat' or 'at least you weren't further along.' My friend's comment was insensitive and made me feel like I didn't have any business grieving for a dead cat when I had three other perfectly good ones at home.

A woman I knew from an online forum lost a baby when he was stillborn. A year later, people who were supposed to be her friends were telling her that she needed to get over it and move on, it had been long enough, and that she should have healed by now. Don't presume to know how long it will take someone to deal with their grief and don't try to place a timeline on grief. Exactly how long is it supposed to take to "get over" the death of a child? I don't know that I would ever be able to "get over" something like that. An enormous tragedy like that is one of those things, I think, that always stays with you. It just gets easier to deal with once the initial pain fades.

Since becoming a mother, I've found that I feel things more intensely and tragedies involving kids are much harder to wrap my head around. The day before Johnny was born, Chechen terrorists took over a school in Russia. When the siege was over, hundreds of people were dead, most of them children. My hormones were still all wonky from just giving birth, and I couldn't watch the news because the images of tiny body bags and blood were too much to handle. Most recently, the bridge collapse in Minneapolis was difficult to come to terms with. The thought of plunging off a bridge into the water below is scary enough, but it's worse when the kids are in the car with you. Both of mine are little. Neither can swim. How would I get them out? Would I have to choose? How on earth do you make a choice like that? When I mentioned to someone that these news items bothered me, the person I told said, "Why? It didn't happen to you."

It bothers me because of the loss of life, because of the potential that was wasted, because of all those children who knew suffering they should not have known. Don't try to tell someone they don't have the right to feel grief or sadness. The whole country mourned after 9/11. Do those people who didn't lose anyone they know not have the right?

I guess the point of all this is to say that the best way to help someone deal with grief is to just be a good friend and be there when they need you. Because when it all comes down to it, a shoulder to lean on when you need it is one of the most valuable things when you are hurting.