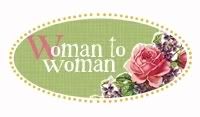 After a long hiatus, it's time for Woman To Woman again! This week the subject is "Dealing with Aging Parents." There are many women who still have one or both parents living. As our parents age and move into their 80s and 90s, they often need a family member to care for them. Are you currently the caregiver for a parent? Perhaps you are the caregiver for a beloved grandparent. What have you observed through this process and how have you worked this care giving into your family life? What difficulties have you encountered, and how have you resolved them? What has been successful for you? Share your insights, observations, concerns with us.

When I was in college, I had a small pet sitting business in addition to my full schedule of classes and my full time job. I had about 50 regular clients, and I made enough money to pay for my car and books.

One of my clients was a woman whose father lived in an assisted living facility with his cairn terrier, Kerry. Kerry had some dental and skin issues that required medication; since her father was unable to medicate the dog, and the nurses at the facility wouldn't medicate the dog, she hired me to do it.

Over the next couple of years, Kerry periodically needed treatment, and each time, the gentleman's daughter called me, so I spent a fair amount of time at the facility. In that period of time, I watched her father's health and mental status deteriorate to the point where he had to be moved to a separate section, one with locked doors that required a code to get in and out. Where he used to recognize me and have pleasant conversations with me, or ask me questions about Kerry's health, by the time he passed away, he didn't know who I was, and barely knew where he was. The only thing that seemed to comfort him was his dog. At times, he was combative and violent, or incoherent and inconsolable, and had to be sedated so he didn't hurt himself or others. He was confined to a bed, and when I came in to medicate the dog, I didn't bother stopping to say hi, because he never knew who I was, and his inability to place my face only upset him.

It was incredibly sad for me to watch his health and mind fail, but it must have been agonizing for his daughter to live through.

My parents and my husband's parents are all decades away from being 80 or 90, and they're all in reasonably good health, so the possibility of being in that situation is a long way away. Hopefully, that day never comes.

People today live much longer than they used to, so many people find themselves in the unenviable position of having to care for, or find care for, an ailing parent. Personally, while the challenges are many, I think the hardest part would be the emotional toll of watching a beloved parent grow old, frail and sickly and having the roles of parent and child reversed.

Our parents once cared for us, so how do you come to terms with being the one to provide the care, especially if your parent is terminally ill or suffering from dementia that causes violence or antagonistic behavior?

I can't predict how I would be able to handle watching one of my parents or my husband's parents deteriorate to the point of being unable to care for themselves, but I do know this. My parents gave me a wonderful childhood and continue to be supportive and loving, and my inlaws have done the same for my husband. Should the instance arise where one of them needed care, they would certainly get it from us. While I don't have any insights to add, there are a few things we have kept in mind for the future, just in case.

Consider these statistics from the CDC:
The average life expectancy for an adult living in the United States is 77.9 years.

There are 36.3 million residents age 65 or older. Of those noninstitutionalized persons, 27% are in fair or poor health, and 34% of those persons are limited in activities due to a chronic health condition.

There are 1.6 million nursing home residents and the average length of stay is 277 days.

In the past decade, the amount of money American's pay for health insurance has doubled, and the amount that insurance companies reimburse doctors for has decreased.
We've been nosing around neighborhoods we might be interested in moving to, and one of the largest considerations has been space. We want a bedroom for us and one for each child, but we've also discussed the possibility that we might end up with one of our parents living with us.

Another consideration is money. Nursing homes and assisted living facilities are expensive. The facility where my elderly client lived was beautiful, but it was still an assisted living center, and the residents were all there because they were unable to live on their own. I don't even want to know how much it cost, but I'm sure it was a lot. My husband's employer offers a Dependant Care Flexible Spending Account, which allows you to put aside pretax funds to be used for childcare or healthcare for kids or seniors in your care, to help defray some of the cost.
The third consideration is one that makes people uncomfortable to discuss, but it's a necessary topic. Advance directives can help lessen the impact of poor health on surviving family members by removing any decision making. When I was pregnant with both kids, the hospital staff asked if I had any advance directives, or if I wanted any information on them. I would never have considered needing anything like that before, I'm 28 years old, but even if nothing is actually made into a legal document, everyone, old or young, should make sure their loved ones know their wishes.
In one of my favorite novels, The Shell Seekers by Rosamunde Pilcher, the main character passes away and her daughter reflects that no matter your age, you never really quite grow up all the way until you lose your own mother. My heart goes out to all those who have lost their parents or who have struggled with changing identities from child to caregiver.