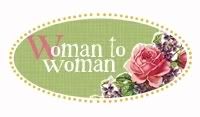 The next topic for Woman to Woman is "Learning To Say No." A lot of women feel like they have to "do it all", regardless of what may be realistic for them. Do you fall into this category? Can you just not resist the urge to be involved in everything? Or have you learned to say no? Have you taken a step backward and seen positive results? Share your frustrations or share your advice. Tell us what you think about the current trend to be all things to all people.
Anyone who has trouble saying no should take lessons from my son, because he's got it down pat.
Me: OK Johnny, it's time for bed.
Him: No. I want to stay up.
Me: Do you want some broccoli with your chicken?
Him: No, I don't like broccoli.
Me: How about a nap?
Him: How about no nap?
Me: Let's go use the potty.
Him: No thanks, Mommy, I'm fine.
Me: You have to hold my hand when we're in a parking lot!
Him: NOOOOOOOOOO! I'm a big boy now!
If he had a dollar for every time he said no, we wouldn't have to bother with a college fund for him.
The sensible part of me knows that he's just asserting himself, becoming his own person, growing independent, and in the long run, those are all good things. I don't want him to grow up to be the kind of man who always backs down and never stands up for himself.
But there's another part of me that finds the constant negativity to be really annoying. Why does it have to be a battle every single time? The answer, of course, is because he's three, and while some kids do become adults who argue about whether or not the sky is really blue, most of them eventually outgrow the stage.
If there's anything to be learned from the daily power struggle in my house it's that Johnny knows what he wants and what he doesn't want. To him, it's easy. He doesn't do anything he doesn't want to do (at least until I pick him up and carry him to the bathroom or make him hold my hand around traffic or insist on bedtime). Take my word for it though, while I may make him do certain things, he's not happy about it.
As adults, we all have to do things we don't really want to do. Pay taxes, serve jury duty, take out the trash, or be nice to people we don't particularly like. The difference is that we make a conscious decision in what responsibilities we take on, and while the IRS will show up at your house if you don't pay your taxes, no one will carry you kicking and screaming to serve on this committee or that telephone tree.

I've never really had a problem with biting off more than I can chew, but my advice to someone who does would be to take a step back and examine your true feelings. Do you really want to participate in whatever it is you've been asked to do? Or do you feel obligated or has the asker tried to make you feel guilty? Once you know the answers to those questions, learn the art of declining graciously. No one can make you feel guilty without your permission, and if something is just not in your family's best interest, don't do it.
If all else fails, you can always use your kids or spouse as an out. My favorite excuse is that I need to be home so the baby can nap, and when my husband was invited to something he didn't really want to go to, I told him he could blame it on me and say that I needed him home that night.

I think as women, we have a tendency to try to be all things to all people, and it's just not possible. You can only juggle so many balls before you drop one and it bonks you on the head. I'm actually looking forward to when my kids are in school and I can get involved, but I'm always mindful of overscheduling. To me, time together as a family is one of the most important things, so I don't plan on committing myself to anything that will infringe on that aspect of our lives.

A good friend of mine with four kids has this rule that helps keep the chaos manageable: each person in the family is only allowed a certain number of activities per season. Her oldest is in high school and he is in either youth group, or soccer or music lessons, but not all three. The rule applies to the adults as well. If her husband wants to play basketball with the guys, then he has to pass on another activity. Not only does it keep them at home more and out of the minivan, but she finds people respond better to knowing there is a family rule than just saying she can't help out for another reason.

When you think about all the balls that moms juggle, which can you really afford to drop and which need to stay in the air? The answer to that question should tell you where loyalties and commitments should lie and go a long way in learning to say no.
edited to add: I had some more thoughts on this subject after I posted. I wrote about them
here
.