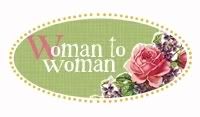 The next topic for Woman to Woman is "Tips and Tricks - Keeping your marriage alive". Whether you've been married for 38 years, 8 years or are a newlywed, you've probably picked up a few of the keys to a happy marriage, one which is nurturing and continues to grow. Maybe your marriage has struggled, but you've found a road back to each other and have insights for those in similar situations. What would you say are the three most key elements in your marriage that keep the romance alive and the heart aflutter?
Small children are labor intensive. They need to be fed and changed constantly, they get up at all hours of the night, they need help to do even the most basic of things. Add to that a limited ability to communicate, which often means deciphering the difference between "Wahhhhhhh!!!" and "Wah-Wah-Wah-Wah!" and it's no wonder the newborn weeks are referred to as the fourth trimester. If you're a first time mom, you have your hands full learning how to care for your new little one, and if you're on your second, third, fourth or fourteenth baby, you have all your older children to care for too.
Then they grow into toddlers, who tend to be picky eaters and who have to be potty trained, and who probably run everywhere with boundless energy. They have tantrums, they assert their independence, they test your authority.
After that, they start school, sign up for soccer and music lessons, have homework, and make friends. They have doctor and dental appointments, they go to the movies and the mall. Between all that driving and organizing, mom and dad are working, cooking, cleaning, and all the other chores that go along with life.
Basically, parenthood is the mother of all endurance tests. My son is almost three years old, and his sister is going on eight months old. I am perpetually exhausted. If you were to ask me when the last time I felt truly rested was, I would probably scratch my head, then say, "Rested? What's that mean?" Every so often, I see an old friend from high school and we talk about how busy we are and how when things slow down, we'll get together more often. We've finally realized that nothing is going to slow down. Lisa Robinson, news anchor from WBAL-TV, who also writes a column for Baltimore's Child, talks about how she thought she'd be more rested when her kids got older. Then they did get older, and she's up late waiting for them to come home, and up early to take one to catch a bus to a soccer event at 530AM.
In all that sleep deprivation, running around, doing chores and errands, it can be easy to lose sight of how your kids came to be in the first place, the result of a loving commitment between soul mates. It's easy to pass each other in the kitchen on the way to work or school or soccer practice or whatever without stopping for affection, and it's easy to become more like roommates than spouses. It's easy to neglect your marriage. The good news is you don't have to let it be that way though.
Practically every parenting magazine is filled with ways to keep the spark alive when the stresses of parenthood exhaust and overwhelm you, but I believe there are three key elements to making it work.
1) Don't forget why you got married in the first place. You love each other. Take the time to make sure your spouse knows that. It doesn't have to be a romance filled night complete with candles and wine and stimulating conversation. Sometimes it's as simple as watching TV together on the couch at the end of a long day.
2) Meet each other halfway. There are very few issues that can't be solved with a little compromise, and almost nothing is worth getting upset and angry about. Your time together is precious, don't waste it with arguing about trivialities. You are parents together, and you are each other's greatest ally. Back each other up, be a shoulder to lean on.
3) Don't be afraid to say you're sorry. It's as simple as that.
Eventually you will come to understand that love heals everything, and love is all there is. ~Gary Zukav
Every marriage has its up and downs, but if you remember to love each other, the spark will endure.